The Different Types of Bras for Every Women Should Know Their Designs & Usages
Certainly! Bras come in various styles and designs to cater to different needs, outfits, and preferences. Understanding the different types of bras is essential for every woman to ensure comfort, support, and confidence in their daily lives. In this comprehensive guide, we'll explore the various types of bras, when to wear them, and how they can enhance your overall comfort and appearance.
Design: T-shirt bras are designed to be seamless and smooth, making them perfect for wearing under fitted or thin fabrics.
Use: They provide a natural, rounded shape and are great for everyday wear, especially with T-shirts, sweaters, and other form-fitting tops.
---
Push-Up Bra
Design: Push-up bras have padding at the bottom of the cups to lift and enhance cleavage.
Use: Ideal for outfits that require a little extra lift and definition, such as low-cut dresses or tops.
---
Sports Bra
Design: Sports bras are constructed with compression and encapsulation to minimize breast movement during physical activities.
Use: Essential for sports, exercise, or any high-impact activity to reduce discomfort and prevent long-term damage to breast tissue.
---
Balconette Bra

Design: Balconette bras lift the breasts from the bottom, creating a rounded, open neckline with wide-set straps.
Use: A flattering choice for lower-cut or square-neck tops and dresses, as they offer cleavage and support.
---
Wireless Bra
Design: Wireless bras provide support without underwire, using fabric, seaming, and structure for comfort.
Use: Suitable for those who prioritize comfort over enhanced shaping, and can be worn daily.
---
Plunge Bra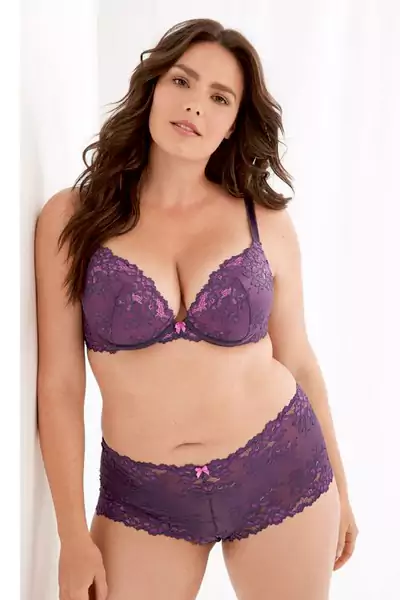 Design: Plunge bras have a deep V-shaped front that is ideal for low-cut or plunging necklines.
Use: Perfect for evening gowns, dresses, or tops that expose more cleavage, providing support and an alluring look.
---
Minimizer Bra
Design: Minimizer bras are designed to redistribute breast tissue, making the bust appear smaller.
Use: Helpful for women with larger breasts who want to wear button-down shirts or blouses without gaping or for achieving a sleeker silhouette.
---
Full-Coverage Bra
Design: Full-coverage bras have cups that completely encase the breasts, offering maximum support and coverage.
Use: Suitable for daily wear, especially under high-neck tops, blouses, and for those seeking extra support.
---
Racerback Bra
Design: Racerback bras have straps that form a "Y" shape in the back, allowing for better weight distribution and preventing slipping.
Use: Ideal for tank tops, racerback dresses, or when you want to hide your bra straps.
---
Convertible Bra
Design: Convertible bras come with detachable or adjustable straps, allowing you to wear them in various configurations, such as halter, one-shoulder, or crisscross.
Use: A versatile choice for outfits with unique strap configurations, ensuring your bra remains hidden.
---
Bralette
Design: Bralettes are typically wire-free and have a soft, unstructured design, often made of lace or delicate fabrics.
Use: Comfortable for lounging, sleeping, or as a stylish peek-a-boo accessory under low-cut tops or sheer blouses.
---
Adhesive Bra
Design: Adhesive bras are self-supporting, stick-on cups that offer coverage without straps or bands.
Use: Great for backless, strapless, or deep-plunge outfits, providing a seamless appearance.
---
Maternity Bra
Design: Maternity bras are designed to accommodate the changing shape and size of breasts during pregnancy and breastfeeding.
Use: Essential for expectant and nursing mothers, providing comfort, support, and easy access for breastfeeding.
---
Front-Closure Bra
Design: Front-closure bras have clasps or hooks in the front instead of the back, making them easy to put on and take off.
Use: Convenient for those with mobility or dexterity issues, and they work well with certain styles of clothing.
---
Bustier and Corset
Design: Bustiers and corsets provide shaping and support for the entire torso, typically extending to the hips or lower.
Use: Ideal for special occasions, as they can help create an hourglass figure and provide extra support for strapless dresses or wedding gowns.
---
Mastectomy Bra
Design: Mastectomy bras are specially designed for women who have undergone breast surgery, offering pockets for prosthetic breasts.
Use: Essential for post-mastectomy comfort and confidence, providing a natural appearance.
---
Camisole Bra
Design: Camisole bras combine a bra with a camisole, providing additional coverage and support.
Use: Perfect for layering under low-cut tops, or when you want the look of a camisole without the added bulk.
---
Longline Bra
Design: Longline bras extend below the bust, often down to the waist or hips, offering extra support and shaping.
Use: Great for formalwear, as they help maintain a smooth, sleek silhouette, or as a fashionable top when paired with high-waisted bottoms.
---
Soft Cup Bra
Design: Soft cup bras have no underwire or padding, offering a more natural and relaxed fit.
Use: Suitable for everyday wear, especially for women who prefer minimal structure and a more natural shape.
---
Bandeau Bra
Design: Bandeau bras are tube-like, offering minimal support and coverage.
Use: Best for off-the-shoulder or strapless tops, and they can be used as a layering piece or for lounging.
Now that you're familiar with the various types of bras, let's discuss some essential tips for finding the perfect bra:
Tips for Choosing the Right Bra:
Get Measured: Have a professional fitting to determine your current size, as your body can change over time due to factors like weight fluctuations, pregnancy, or aging.
Consider Your Needs: Choose a bra type that suits your lifestyle and outfit choices. Different bras are designed for various purposes, so consider your daily activities and clothing preferences.
Material Matters: Opt for bras made from comfortable, breathable, and skin-friendly materials, especially for daily wear.
Strap Adjustability: Ensure that the straps are adjustable to achieve the perfect fit and support.
Underband Fit: The underband should sit snugly against your ribcage, providing most of the support. It should not dig in or ride up.
Cup Size: The cups should fully encase your breasts without any spillage or gaps. If the cups wrinkle, you may need a smaller size, and if they create a "double boob" effect, you may need a larger cup size.
Wire Placement: If you choose an underwired bra, make sure the wires sit comfortably against your chest, without poking or digging into your skin.
Regular Reassessments: Periodically check the fit of your bras and replace them as needed, as bras wear out over time.
Wash with Care: Follow care instructions to maintain the elasticity and fabric quality of your bras.
Invest in Quality: High-quality bras may cost more, but they tend to last longer and provide better support and comfort.
In conclusion, understanding the different types of bras and their uses is crucial for every woman. Your choice of bra can impact your comfort, confidence, and the overall look of your outfits. By selecting the right bra for each occasion and ensuring a proper fit, you can enhance your daily comfort and style. So, take the time to explore the wide range of bras available and invest in the ones that best meet your individual needs and preferences.