We recently edited this article, reviewed, and added in items in this article
Accessories are a very important part of women's life. Our dressing style is incomplete without a fashion accessory. Accessories create a major impact on the outfits.
Many women do not wear accessories. It might be out of habit or because they do not consider it important. However, wearing accessories make a bigger impact than you think. There's a reason why certain women look stylish, no matter what they wear. And it may not always be about designer labels, the stylist's magic, or the women themselves. The answer lies in the subtle art of accessorizing and the fashion accessories that make it happen.
The right accessories have the power to transform the most basic outfit. After all, it's the little details that matter. And that brings the entire outfit beautifully together to present the look you want to carry, whether it be chic, elegant, casual, artsy, or formal.
Although there are different types of women accessories, here we are discussing the most popular women accessories that women use in daily life.
Also Read: Tips For Choosing Right Fashion Accessories
Although there are different types of women accessories
Here we are discussing the most popular women accessories that women use in daily life.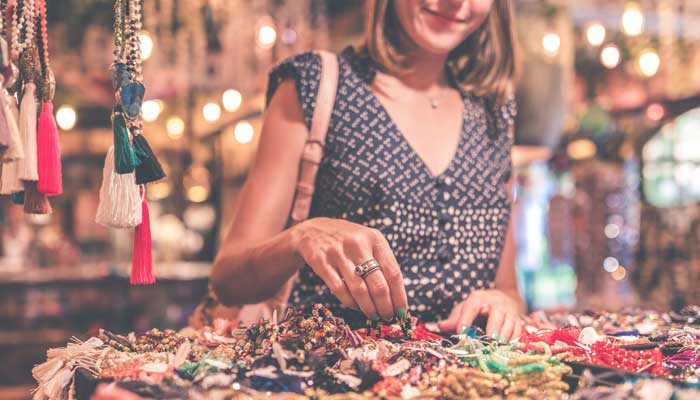 Earrings are small in size but have a large impact on the overall look. Earrings are a very common sight in everyday life. They come in different sizes. There are stud earrings, hoop earrings, tassel earrings et al. Most women use stud or tiny earrings for everyday comfort. They look good and don't feel heavy in wearing.
---
Handbags are the other most important accessory in women's accessories. Handbags are the accessory that is more than enough in itself. If you are having one good handbag then you are good to go. But most women prefer to have different colors, sizes and styles handbags. They are always looking after what is hot in trend or what is not. Thus, loves to have different types of handbags.
---
Wristwatches never go out of style. A watch tells a lot about the personality of the owner. People love wearing watches. They are elegant and easy to wear. Some people like to have one good quality watch that perfectly goes with all styles and occasions. And others prefer to have a variety of watches for different clothing styles and occasions.
---
Rings are the smallest detail and they look elegant. They are more than just wedding rings. Rings are easy to wear and are the trendiest accessory. They make your hands look elegant and highlight your hands. It's a great way to complement your outfit.
---
---
Sunglasses are never-ending fashion accessories. They are practical and timeless. They are designed to protect the eyes from harmful UV Rays. A great pair of sunglasses won't even protect your eyes; they will add an extra "it" factor that will have people turn their heads. They are often used as statement pieces and showcase a personal style. Sunglasses are hard to go unnoticed. They complete the outfit. And also gives an edge when clicking pictures. Getting the right frame as your face shape is extremely important. It would complement your face shape and enhance your features.
---
---
Everyone must have some simple go-to jewelry that they can wear on daily basis. Like a light chain with a little pendant that matches with everything. Find yourself a go-to necklace to reach for when your other jewelry is too loud.
On the other hand, you will also need a chunk or bold statement neckpiece. This could be loud or colorful which will get a whole lot of attention to a simple outfit.
If you want an effortless necklace than lightweight, small pieces could work for you, or if you want to dress up an outfit then go for louder ones.
Accessories can be your great friend if used in the right way. They can ruin your whole great looking outfit if over-accessorized. Playing with accessories can be fun. Do not afraid of experimenting. You will come to know what suits you and what doesn't.
---
---
Hair accessories are also important among women's fashion accessories.  There are different types of hair accessories such as headbands, pins, scrunchies, scarves, clips, etc.
The most basic hair accessory you should own is a cute headband and add another element of color to your outfit. Then comes pins with embellishments. Turn a simple bun or updo into something way classier with custom hairpins. Pearl clips are also another hair accessory that is available in the market in hundreds of ways and can be style in different ways.
---
---
A belt can flatter your figure and transform your silhouette. They can add structure to any outfit. Whether you use them to add a dash of color to your outfit or to emphasize your curves, belts always look great. Look for different sizes and colors that'll complement your closet best.
Paying attention to fashion accessories can help in making a huge style statement with little effort.
Accessories can present your mood, personal style, and taste through your appearance and fashion accessories go a long way to help you do that.
---
---
Why Accessories are important?
Highlights Features– Accessories highlights certain features of your body like neck, hands, ears, and face. For instance, if you are wearing a deep neck dress then you can wear a long neck chain or you can also, highlight your facial features by wearing beautiful earrings and a beautiful ring will draw attention to your hands and make you more noticeable.
Exhibits Personality– The first impression is the last impression. The type of accessories you wear says a lot about your personality. Bright and bold color accessories reflect that you have a bright and colorful personality. On the other hand, pastel color accessories reflect that you have a calm and simple personality.
Brighten Up The Outfit– Accessory is a powerful weapon that makes your outfit look stunning. To get a dazzling appearance you can wear any bold color outfit and team it up with some statement necklace or accessory.
Stay Fashionable!