Top 10 Minimizer Bras for Large Breast to Buy in 2022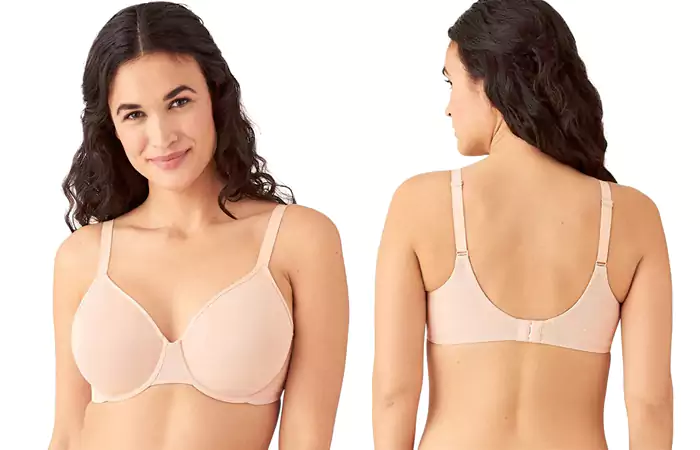 Isn't that miserable when you have to face the struggles of having big breasts and people envy you too? From that jumper dress that looks chunky to the sexy dress that doesn't fit, big busts bring the real struggle. And the pain while participating in sports wearing the wrong bra is another nightmare. What to do? Lingerie stores also don't make many bras that tailor to those big sizes. And whatever's available is costlier. Don't worry, the bra industry has a solution for this – the minimizer bra. Ever heard of this before? Learn more about this innerwear and explore the top 10 minimizer bras for large breasts to buy in 2022.
What is a Minimizer Bra? What Does it Do?
As the name suggests, a minimizer bra reduces the breast appearance by the size of a couple of cups. Don't get confused here. The bra doesn't reduce your bust size but minimizes the forward projection by redistributing the breast tissue. In other words, it compresses the tissue of your breasts from the front while retaining the shape and increasing the bustline.
Also Read: Top 8 Bras for Sagging Breasts
Why Should You Get a Minimizer Bra?
There are many reasons women want to reduce their bustline appearance, such as the ones listed below:
The primary reason is to prevent wardrobe malfunctions. If buttons of your button-down shirt have a gap in between around the breast area, a minimizer bra can help. It makes your silhouette appear more balanced and smoother redistributing the breast tissue. Thus, you won't need to replace the entire wardrobe but the bra.
Another problem that women with big breasts face is the bouncing (bigger) melons. Wearing a full coverage minimizer bra reduces the bounce by adding extra support and comfort.
The immediately visible difference a minimizer bra makes is that it reduces the breast size appearance. With light padding and unlined stitch, they don't add the extras while reducing the appearance by an inch or a cup size.
Another popular reason for women to choose minimizer bras is they let them show a proportionate figure. If your breasts appear bigger than the rest of the body, a minimizer bra helps set the proportions right.
In comparison with other styles, a minimizer bra enhances the shape and provides better comfort for pendulous breasts. If you don't know, a pendulous shape is the one in which breasts point downward and hang. It's a common scenario for breastfeeding women and those who lost weight drastically.
How to Find the Best Minimizer Bra?
So, are you ready to buy your first minimizer bra? Here're a couple of tips you should keep in mind:
Brand Quality: A factor worth considering irrespective of what you are buying. But when buying a minimizer bra, it becomes paramount. A poorly made bra will create uneven spillage or compress the breast tissue a lot. Moreover, a quality one will last much longer than a poor one.
Bra Size: The first misconception for someone new to minimizer bra is buying a smaller size for effective results. But that's not true. Wearing a smaller size can cause problems like breast soreness, back pain, and circulation problems. So, you should measure your bustline and find the right size of the minimizer bra for a comfortable and look-enhancing innerwear.
And when you are ready, you can go through our list of the 10 best minimizer bras for big breasts.
Top 10 Minimizer Bras for Large Breast to Buy in 2022
Here's the list you have been looking for.
---
---
---
---
---
---
---
---
---
---
---
The Final Words
Isn't that wonderful? You won't have to suffer the envy of people for bigger breasts. This list of top 10 minimizer bras for large breasts to buy in 2022 gives you a chance to be beautiful. Which one are you going to pick from the list?
Top Viewed Articles