Miley Cyrus and Cody Simpson Take a Break from their Short-term Relationship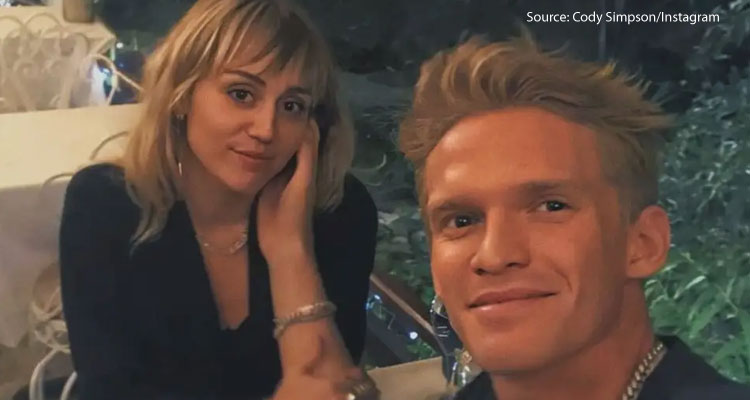 Not even a year has passed, and the relationship between Cody Simpson and Miley Cyrus has come to an end.
A TMZ report states that the couple broke up a few weeks ago, but the reason is still not apparent. When Miley divorced Liam Hemsworth in August 2019, she began dating Cody a couple of months later. To this, her fans scrutinized her for being too fast in moving on after ending her marriage of 2 years.
However, the news doesn't seem to have an impact on the Disney star. She was spotted in a chill mood on Thursday noon in Calabasas at her friend's home. She was holding a coffee mug and smiling with her friend before they entered the house.
The Starting Point of Cody and Miley's Friendship
The recently separated couple has been sharing a friendly relationship since 2015. However, their romantic bond is the most popular one.
On Zach Sang Show in July 2015, Cody mentioned Miley as the 'coolest girl he has ever met in Los Angeles.' Hailing from Australia, he stated Miley to be an inspiration for not getting burdened by the fame-related pressures. Later in December, he declared her as his best friend when GQ Australia was interviewing him.
Four years after the start of their friendship, the duo's romantic relationship came to light. TMZ reports the couple's first romantic appearance as a kissing instance at LA's Backyard Bowls. This incident happened two months after the news of Miley and Liam getting a divorce. A few weeks later, Miley and Kaitlynn Carter also flung together. However, when Twitter users slammed her for a quick move on, she defended her actions through tweets.
Following this, Miley started sharing Cody's photos on her social media until he confirmed their relationship on October 6. To declare this, he posted a selfie with Miley and mentioned her as 'baby.' Besides, Cody was also with Miley in October when she was undergoing treatment for tonsillitis.
The Rise of Problems between the Couple
Cody faced an accusation for cheating Miley Cyrus in December 2019. The allegation came after Cody was seen with Jordy Murray in NYC. Soon, E! News published his denial of all these obligations. Cody's agent wrote to the outlet that this is just a fabricated story, and Cody was on a trip with a friend only. However, later in January, the couple spent time together and has been posting happy memories on social media as well.
Though Miley and Cody have separated, the exact reason behind this break-up still remains hidden.