15 Best Backless Bras for small busts that Actually Stay Up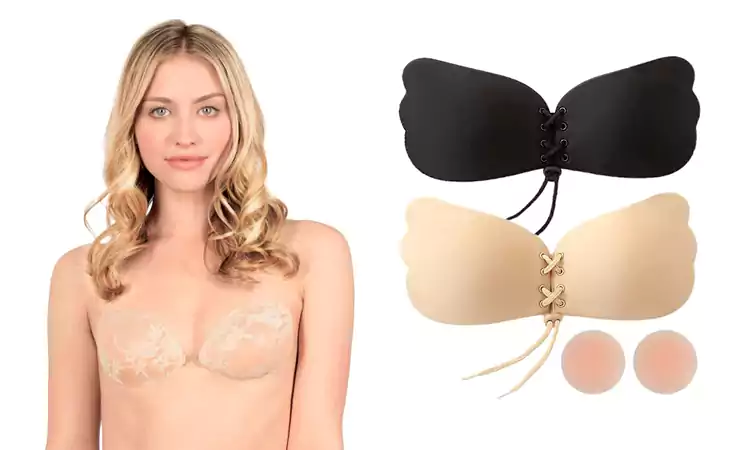 Woman's lingerie is an important attire for her body. For the best support and superfluous comfort, bra is the favorite outfit for every woman. There are lot for bras available in the market like backless bras, strapless bras, self-adhesive or sticky boobs, etc. Women often ask themselves umpteen questions- where to find the backless bra for small breast, how can I get affordable backless bra for small lifting and shaping, are there any more varieties available in the market or on ecommerce website? Don't worry ladies, we have all your answers in this article. You don't need to roam here and there just read this article till the end and decide for yourself which bra you can purchase from Amazon as per your comfort and style.  
Also Read: 11 Best Backless Bras for Big Busts that Actually Stay Up
It's not surprising that some of us have abandoned hope of looking for the ideal specialty bra that can actually hold up without needing any extreme weather duct tape. Even for some ladies who have just started post-breastfeeding and are sick of nursing bras, this article is your best bet because you can explore various choices to maintain your comfort.  But you can still enjoy your immense fashion moments just like you did before pregnancy or in your earlier life — and we've got covered with all your backless bras to prove it.
Have a read the article below of top 15 best backless bras for small busts that actually stay up
This adhesive sticky backless silicone bra is a hugely popular choice on Amazon, and one customer even wrote about this brand that they'd "never go back to regular bras again." It really meant something. Made from adhesive silicone material, and the shape works well with strapless tops and other casual dresses. The front clasp assists everything in proper shape, but keep in mind that it is not adjustable as per your choice, however, you have some sort of control depending on where you put your breasts in the cups area. Comes with bonus silicone nipple covers if you want to go for less coverage and this bra is available in four colors such as cocoa, khaki, beige and crème.
---
Flizzot backless bras act seamlessly with strapless and backless features. Each Amazon's order comes with a black/beige bra and silicone nipple covers for the customer when you want less coverage area. Also, the front clasp will help your breasts to keep in place and can create a slight lift movement for the busts. As one fan wrote about this bra, "The clear clasp feels very comfortable while wearing. The bras are super soft and stretchy and easy to wear.
---
These FJYQOP rabbit ear backless bras serve extra support without pushing your busts together and are perfect among women who want backless and low-cut looks. Set comes with 2 pairs of beige bras having silicone gel adhesive with bunny ear tabs. The tabs may be visible with strapless tops, but you can easily trim them down as per your desired length and choice.
---
Adjustable for every outfit this KISWON bra gives you ultra-comfort — tie it loosely for support or you can cinch it tightly to keep your breasts together. Made with a soft, breathable material having silicone adhesive, this bra set includes two colors: black and beige (more casual colors). It's a great invisible bra for strapless and backless looks for dresses, and while the tie-front closure may create bumps under some attire, you do have the option of leaving the ties peek through.
---
As the name implies, these IssTry rabbit ear bras provide a light lift while invisible underneath your attire. If adhesive tabs do peek out, then they're easy to trim for your wellbeing to your desired height. Super sticky, even after multiple wears, that's the specialty of this backless bra for smaller chest.
---
Works with low necklines and strapless clothes, this TITU backless bra is a best choice among women. This U-shaped plunge bra has silicone adhesive inside the bra cups and wings on each side. Great option for plunging necklines, because the wings may be visible with backless dresses. It comes in two colors only on Amazon: black and beige.
---
Looking for minimal coverage and ultra-comfort, these highly rated NIPPIES silicone adhesive concealers are perfect for your busts. Just keep them directly over your titties, and the ultra-thin edges will rub flat against your skin area, which makes them nearly invisible under your clothing. These nipple covers are available in caramel, cocoa, and beige, only on Amazon and they last through many wonderful uses before the adhesive fades away. Plus, they come with a carrying case, so you won't lose track of them in your wardrobe.
---

Lightweight & self-adhesive disposable best backless bra for every cup size from Braza allows you put on backless formal dresses with confidence in office and outdoor areas. Its material is superior stretchable that you can easily mold according to your breast shape to provide them complete coverage, support and lift up. This five-pair pack of disposable bras can be put on with strapless and backless dresses, bathing suits and tank tops.
---
Bustier style of this Dominique strapless & backless bra is designed to flatter your body and boobs while providing support and lift to the breasts.  Featuring three sections with light boning with midriff to offer a smooth silhouette, this bra is made of polyester, nylon and spandex and has an eye closure for convenience. The contouring cups are occupied with fiber for superior comfort and coverage, while the garter in the mid area adds to the backless support. Available in two colors white and black only on Amazon.
---
This bra has clear adhesive silicone wings along with backless and strapless features. This U plunge bra ensures the cups keep in place while being invisible to the others. The shell is made of nylon and elastane to make it stretchy and comfortable to wear. The bra has a deep plunge between the cups, making it suitable for low-cut necklines.
---
Having seamless contoured cups, this Hansca Backless Strapless & push up bra provides a rounded natural look for the others while being invisible. It has an underwire and thick padded cups to assist and support the busts, while its silicone adhesive on the cups keeps them in proper shape.  You can wash this bra with mild and gentle efforts with soap, don't use detergent. It comes in nude and black colors only on Amazon.
---

These strapless and backless nipple cover pasties from Apriddeao are fitted with tapes that quickly lift and shape the busts accordingly. The cups are free from adhesive around the areola, keeping the tender region safe from unwanted infection and allergies. This durable bra can be washed with mild soap by taking off the plastic sheets to maintain the stickiness. It comes in 2 sizes – M , which is ideal for A, B, and C cups, and L for D and E cups.
---
Made from medical-grade silicone adhesive, these bras have cups with side panels that make it skin-friendly and comfortable to wear for the wearer. Having molded padded cups with underwire this has light support to offer and lift while creating moderate cleavage.  You can put on this JOATEAY bra under off-shoulder, backless, halter and strapless tops.
---

Comes with light padding and an underwire design this Wonderbra backless bra for smaller bust gives a smooth contour and ultimate support. This bra provides a good lift to breasts, while the plunge cup lets you put on dresses with a low neckline with great ease. This bra is easily available in A to DD cup sizes on Amazon and has a hook and eye closure to offer a secure fit at the back.
---
This bra has a lot to offer in the form of slip-resistant silicone strips around the top and non-slip fabric around the band to keep this multiway bra stay in place. Comes with detachable straps, convertible into numerous wearing ways like strapless, crisscross or one-shoulder, women do like this kind of versatile bra for their body.  Be it someone's wedding, party or any ceremony, this bra will be your best buddy in ideal times. Available in numerous sizes only on Amazon.
---
Different sizes of Backless bra for small busts women
AA to A Cup Size Bra for Small Busts Women
You blessed ladies; you can almost get away with wearing little to no support most of the time. You almost do not have much trouble with wearing backless dresses and you can buy anytime backless bras and look great in those sexy dresses.
A to C Cup Size Bra for Small Busts Women
For these size women, you too do not have many options. You can also have as many options as you want for your fav deep back and neck dresses. You can also buy small kind of backless bra for your dress online or at shops as well. Try adhesive bra for complete backless dress, plunge bra for plunging neckline, push-up bra for extra cleavage boost.
D to DD/E Cup Size for Small Busts Women
D cup size women can opt for adhesive bras that can offer complete support to your boobs. But choose those adhesive bras that must have a clasp in between which will give you strength and extra support. It will provide ample support and lift to your boobs. Remember not to go for separate adhesive cups.
Top Viewed Articles