10 Best Exercises for Women At Home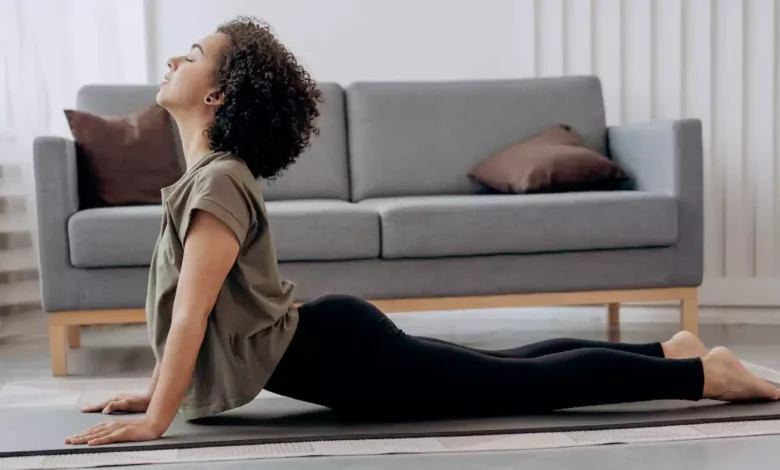 For women juggling between professional and personal life, taking out 30-40 minutes for exercise and hitting the gym for a workout can be a burdensome task. Even simple core exercises like walking and running require a lot of time, and taking this kind of time out of a busy schedule is kind of difficult. But as they say, "Exercise not only changes your body. It changes your mind, your attitude and your mood." In today's modern tiring life, exercise has eventually become a necessity to lead a happy and healthy life. 
Researchers have claimed that out of 1 in 10 women of childbearing age  in the USA suffers from PCOS, a disorder which is further linked to fatal problems like diabetes, high blood pressure and unhealthy  cholesterol. No one wants this, right? Need not to worry, PCOS and some other problems are untreatable but their symptoms can be minimized by regular exercises and diet plans as the Research claims. Again, these workout sessions are really time consuming , but in this article we will further discuss some simple exercises that can intervene the time and health issues and the best way to perform them.
Also Read: Ten Minutes Workout Guide for Your Daily Routine
Where luxury gym memberships are expensive and much time consuming, home workouts are the best alternatives as they are totally in budget, their intensity can be adjusted as per beginner, advanced, intermediate levels and can be completed in just 10-15 minutes. There are several home exercises and workout regimes available for upper body, core, slimmer legs, abs and of course a better mood. So, my ladies, forget about heavy equipment and large fancy spaces, and get ready with your exercise mat and a corner at your home, because, below, I have compiled a list of exercises below. 
Here we will discuss the best exercises for women that you can do at home 
Jumping Jacks
Jumping jacks, as the name suggests is a jumping exercise performed with the controlled movements of feet and hand. To perform this, start with hands on your side and legs touched together. For the next step, open your legs to the sides with a jump and arms raising above the head. Later, close your arms and legs back to the original position. Jumping jacks train upper body muscles, glutes and are the best workout for achieving slimmer legs . On average, 10 minutes of jumping jacks can burn 100 calories. In easy words, the more you workout, the more calories you burn. You can create your own circuit for home workout with jumping jacks and other simple exercises like squats, planks and burpees. Find some space in your home and get moving, girls.
Squats or Chair Squats
For lifted butts and toned hips, squats is the best and basic  equipment less exercise to opt for. Start with a straight back, shoulders and chest nicely tightened and move your feet apart as your shoulder width. Now, slowly bend your knees and sit as if sitting on a chair. For beginners, an actual chair can be used for support. Now, slowly come back to the original position. Create sets as per your body types, starting from 2-3 sets with 5-8 reps. Please note that if your knees and back start hurting after squats, you should start again and do it properly to avoid knee and back pain. Try looking straight forward for better results.
Plank
Plank is the simplest yet most difficult exercise that works for your whole body, especially burning the abdominal fat. Simply rest your whole body on elbows and toes in such a way that your elbows should be bent and toes should be stretched. Keep your body entirely straight in this position for at least 30-40 seconds for beginners and upto 2 minutes for advanced workout people. Perks of adding planks to your regular regular workouts build core strength, improves the posture of body, flexibility and of course you will get the perfect crop top body.
Leg Raise
Considered one of the best strength training exercises, it improves your core strength and targets the lower and upper abdominal muscles. Also, known for improving flexibility. Simply grab your yoga mat, lie down there on your back. Stretch the body and rest your hands beside you, palms down. Raise your legs off the ground, keeping your legs straight as much as you can. For beginners, initially start with knees bent if not comfortable with stretched straight legs. Hold on to the position as long as you can, slowly coming back to the original position. Your own circuit of 10-15 minutes can be created adding leg raise to it, on regular intervals. You'll start to notice the changes in your upper body muscles and improvement in basic core strength.
Crunches
One of the basic traditional exercises for building both six pack abs and tightening the belly. Crunches can become a part of a regular workout regime for core strength and even whole body workout. First step to begin with is to lie on the floor or exercise mat with your face upwards and knees bent. Next, place your hands crossing on the chest or just at the side, whichever seems more comfortable to you. While exhaling , pull your shoulders above the ground around 1-2 inches and keep your neck straight, chin up. Hold here for a few seconds, breathing normally. Now, slowly go back to the original position comfortably. Repeat this in sets of 2-3 with 15-20 reps each varying from beginner to advanced level. However, if you feel some strain on your neck while doing crunches, you can use your hands to gently cradle the neck. The focus of crunches should be on the abdominal area and neck muscles should not be stretched in this.
Sit-Ups
Sit ups are really similar to crunches, so, if you are familiar with any one of them, the process to learn the other one is going to be very easy. Just simply put your hands behind your ears, without straining the neck region. Lie comfortably on a yoga mat, and simultaneously exhale and inhale, try to curl your upper body all the way towards your bent knees. Gradually come back to the original position. Repeat these 15-20 times in sets of 2-3 varying as per your body's capacity. Make this exercise a permanent member of your home workout regime, and all your back pain that you have attained from sitting in front of your laptop, will eventually say bye-bye. Along with it, sit-ups build core strength, give a flat tummy and yes, improve stability and posture. 
Lunges
Lunges are popular for strength training amongst athletes. For toned calves, glutes and hamstrings regular performance of lunges is highly beneficial. With hands resting on your hips, split your right foot in front of the left one at a distance of 2-3 feet. Bend the knee of the front foot until the back knee is about to touch the floor. Keep on checking the back knee parallel to the ground and your torso should be straight. Now, slowly push back your body to its original position. For effective results on lower body and slimmer legs, aim for 3-4 sets of 8-10 lunges in every circuit training.
Bicycles
This exercise is so easy that you can do it even lying on your sofa enjoying your favourite netflix movie. Just simply lie on your back on your yoga mat or anywhere in the park, raise your feet in the air and place your hands  behind your head. Start pumping your feet vigorously in classic bicycle motion. Girls, You will notice changes in your metabolism, core strength and overall mental health. And, the biggest pro for people with stiff joints , this bicycle exercise will also increase joint mobility. 
Skipping
This one doesn't need any introduction, right? I am pretty sure we all have played this fun looking game cum exercise in our childhood. Just grab a skipping rope and prepare to sweat. You will feel your heart racing and every muscle muscle of the body is targeted through skipping. Just 20-30 mins of skipping can give you unimaginable results, that too from just one corner of your home.
High Knees
Don't have the time to visit the gym and do some cardio on the treadmill. Don't worry, we got you. Just find a peaceful small space at your home, and start jogging at one place with your knees raised as high as you can. This is a very beneficial cardio exercise for better metabolic rate, strength and of course decreased levels of stress.
Just 15-20 minutes of high knees everyday can boost immense energy levels. 
All the above mentioned exercises seem pretty easy, right? They actually are. And the best part is you can customise these as per your body capability from beginner to advanced levels. Just keep some points in mind before starting any cardio or muscular workout.
Don't eat anything at least 1-2 hours prior to any workout. If you feel nauseous and dizzy, immediately stop the workout and take some rest.

Home workouts or any other exercises will show the perfect results only when combined with a proper diet. You can cut junk food off your craving list or consult a dietitian for a diet chart as per your body type.

Regular performance of these workouts with proper sets and reps is advised for amazing results.
So, grab your exercise mat and get ready to sweat at home, with easy peasy exercise.