Top 11 Ash Blonde Hair Color Ideas To Try In 2021
Keeping up with the latest hair trends is a lot like discovering new beauty products. When you think you've found your favorite ones, new and exciting trends pop up every time you go to the beauty supply store. This is true especially when it comes to blonde hair colors. Just when we think we've picked our all-time favorite hue, we catch a brand new shade on our Instagram feed.
With so many shades of blonde to choose from, it's hard to stick to just one. But now you don't have to. Excited?
If you've tried every blonde shade under the sun but haven't veered from those warm, golden-blonde shades, it's time that you add ash-blonde hair color to your list.
Also Read: Top 10 DHT Blocker Shampoos to Stop Hair Loss Immediately
But, what is Ash Blonde?
Well, ash blonde is a light shade of blonde that has a greyish and whites tint to it. It is a cool toned shade of blonde. Since it is on the cool toned side of the color wheel, ash blonde looks best on people with lighter complexions and blue, gray, or green eyes. But that doesn't mean it won't look gorgeous on dark-skinned ladies. You'll just have to find the right shade of ash blonde to work for you.
Balayage, highlights, ombre, or all-over – there are different ways in which you can incorporate ash blond into your hair. You can dye your hair at home but we will recommend hitting the salon and leaving your ash blonde dreams to a pro.
How To Get Ash Blonde Hair Color?
There are 3 ways to find the perfect hue for your strands-
Check On the Internet and find inspiration
Shortlist few
Visit your salon and ask your stylist which will great on your complexion.
A good starting point for any hair color change is finding an inspiration photo to use as a reference. If you're planning on heading into the salon to achieve ash blonde hair, having a picture is a great way to show your colorist what look you're looking for. If you're planning to do it at home, it's still important that you have an end goal in mind while you're coloring.
Beautiful 11 Ways To Style Your Ash Blonde Hair Color
This super light ash blonde style is just the right amount of daring and muted. Go for a medium length cut and some loose curls to complete the beauty of this look. Channel your inner Queen Elsa by going for this totally cool white hair look. Golden blondes contain a lot of yellow and a lot of warmth, but not here. That's because this white-ish blonde has all the cool tones.
Light ash blonde hair color is a whiter shade of blonde that has an ashy, or gray, tint. It could be described as cool platinum, and looks best on lighter complexions with lighter eye colors. Lady Gaga has sported this hue, which can be achieved on lighter natural hair colors through balayage, or all-over color on those with darker natural hair colors.
If you're not keen on going for a full head of blonde hair, an ombre style will treat you well. Color the ends of your dark brown hair in a cool toned ash blonde and style it in loose waves to create a look that is perfect for the office, as well as the beach.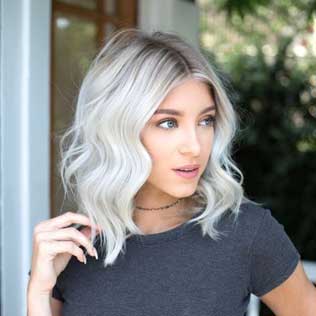 This hair color starts off with black roots at the top then slowly blend into ash blonde and then platinum to create a stunning contrast of hair colors.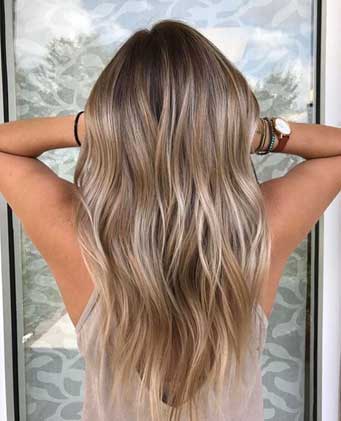 This gorgeous warm buttery blonde style highlighted with streaks of cool ash blonde that creates a dynamic hair look.
If you do not wish to change whole color of your hair and wants to keep some natural tone of your hairs then highlighting is the option for you. If you're thinking of giving this shade a try, make sure your stylist places a few bright highlight throughout.
Fresh Platinum Ash Blonde hair looks stunning. Platinum ash is striking as a full head of hair. It's hard to carry a single shade for the entire head, but this stunning color is the grand exception to the rule and requires just as much work to get there. When going platinum it's super important you go to a stylist you trust who specialises in blondes.
Can't decide between a gray hair color or a blonde? Do both! The great thing about being ash blonde is you can then experiment with toning, from white/ash blonde to silver/ash blonde. When it comes to silvery ash blonde hair, hairdressers will usually keep some platinum highlights in there to brighten the overall colour and rid of any dullness.
The more this style looks trendy the more It damages your beautiful strands. The bleaching process tends to cause a lot of dryness to the hair, so keeping your strands hydrated is very important. Massage your hairs once a week with hot oil to restore your hair's shine and to keep them nourished.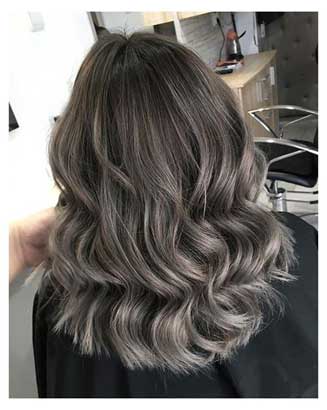 This shade is dark ash blonde. There's very little difference between the shades, which combine a beige nutmeg base with light ash top notes. This ashy blonde on dark hair tone with ashy highlights is the perfect way to try the trend without totally making the switch to completely different hair colors.
If you too love smokey eye-makeup then you would definitely love this smokey ash blonde hair color trend. Create the smokey effect by going for black or dark brown roots and an ash blonde shade with dark grey undertones throughout the length of your hair.
Few Tips to Take Care Of Ash Blonde Hair
We are sure that you want one of these to give a try as blondes have always fun to try, but they DO definitely require more special hair care. It's important to take care of it to maximize the duration of color, especially when you've put in a lot of effort to achieve your new shade.
Use only those shampoos which your stylist have advised you
Use shampoos and conditioner which will protect your hair color and won't make it fade faster.
Have purple shampoo in hand. With time your cool color may not go brassy as other shades of blonde; you will still need purple shampoo in hand.
Try to avoid heat drying of your hair. Go air drying as it will keep color for longer duration and won't fade away early.
So, this was the different shades of ash blonde hair color. Hope you have liked them and going to get one of it ASAP.
Top Viewed Articles