Men Basic Skin Care Routine to Keep the Skin Healthy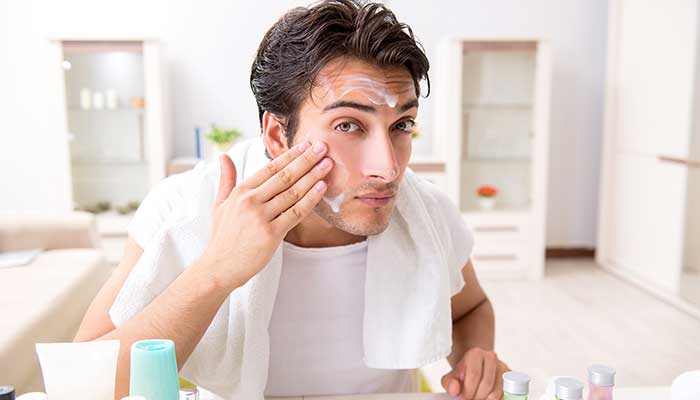 Men should also indulge in skincare routine to protect their thicker and firmer facial skin. Whether they want to admit it or not, men need to have at least a basic skincare regimen to keep their complexions clear and skin healthy.
Men have traditionally kept it simple. However, more men are now pursuing healthier, younger-looking skin, making it a great time to evaluate their skincare routine. So, if you are one of them who has been skipping out on skincare, it's time to talk. You don't need to do much to repair, protect, and even pamper. We're recommending the most basic adjustments for long-lasting results.
Men's everyday skin routine is all about shaving and that's it. But unlike women, they have hard skin that also requires some kind of pampering and attention. Their thicker and firm skin requires extra diligent care. So believe it or not, men do need to follow every day proper skincare routine.
Also Read: Health Benefits of Drinking Water
Cleanse
The most important thing dudes have gotten right is they do not over-wash their faces. This is because washing too much can ruin your skin's natural oils.  Use a mild face wash that suits your skin. As the skin tends to get oily throughout the day and block the pores, it is important to follow a regular cleansing routine.
Moisturize
Moisturizing has a bunch of benefits including helping to keep your skin from drying out. Do not even think to skip this step just because you have an oily skin texture. Oily skin also gets dry and gets cracks. So, moisturizing is very necessary. A moisturizing cream provides the right amount of moisture to the skin to keep it hydrated and healthy.
Exfoliate
All the dirt and oil accumulated on the face results in blackheads or whiteheads and forms a layer of dead skin cells. Exfoliation rubs off this layer and brings out smooth, healthy skin. Removing dead cells from the skin's surface leaves the face radiant and healthy. Once a week, you should use a gentle face scrub to help smoothen the skin and eliminate dullness. Another advantage of exfoliating the face is that it softens the hair follicles, which results in a smoother shave and minimal irritation.
Hydrate
During summer, refresh your skin with a skin toner or use a serum according to your skin type. In the case of dry skin, it's important to restore the lost moisture as it speeds up the aging process. Whereas, a serum will help keep the skin well-moisturized looking youthful and healthy. A serum will also help the skin fight the daily stress and extreme weather. This is the outer hydration that the skin needs. But for deep nourishment drink plenty of water to keep skin hydrated from the inside.
Sun Protection
The sun is the number one offender when it comes to creating wrinkles, age spots, and other damages. SPF should be an important part of your skincare regime as it protects the skin from the harmful UV rays that leads to sunburn, tanning and gradually leads to early aging. SPF 30 is recommended which will protect your skin from sun damage.
Men must indulge in skincare as wrinkles; fine lines and aging are common in men and women. And in men, the signs of aging begin to appear around the eyes as it is more delicate. So take a deep breath and dive deep into self-care.