Best Pore Vacuum Cleaner to Remove Blackhead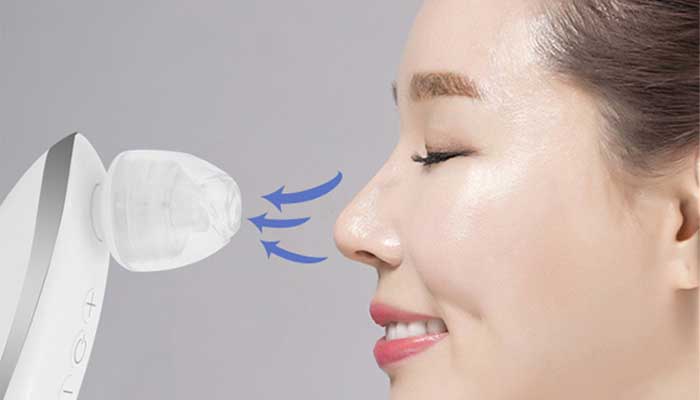 A pore vacuum cleaner is a 100% solution to all blackheads and skin pore build-up, leaving your skin smooth and blemish-free. This may sound like another mad scientific beauty creation. but it is worth the try. A pore sucker works just like a typical vacuum; the only differences are the areas of use, size, and intensity. The best pore vacuum cleaner gets rid of blackheads, dead cell build-up, and excess oil by sucking them out of your pores.
To remove blackheads, you need to thoroughly wash your face with a blackhead removal cleaner. After this, use a facial steamer for opening pores and then apply a mask to gently pull dirt and excess oil. Then there comes a pore cleaner tool to take out stubborn blackheads.
We all have been doing this- standing in front of a mirror pinching our skin to squeeze out an unwelcome blackhead. Isn't it?
Blackheads occur when pores get clogged with oil and dead cells and then oxidize when they're exposed to oxygen. They DO annoy everyone and one of the major issues among the others we keep struggling with. Your skin requires very little care. We may ignore it often but those little issues which may seem smaller can do much harm with time.
A pore vacuum cleaner is a Korean beauty treatment that involves a small vacuum that pulls out all the dirt, oil, dead skin that may have collected in your pores. People have reviewed that those actually work and leave their skin with an improved look.
What Does the Best Pore Vacuum Cleaner Do?
A pore vacuum cleaner helps in clearing out your clogged pores. They gently exfoliate and remove the dead skin cells, sebum, dirt, and other impurities build-up in your pores. They use suction to extract these impurities from your pores. A pore suction tool has different suction power settings for different skin types. They are also known for removing blackheads and whiteheads.
Do Pore Extractor Vacuum Work?
The best pore vacuums do work to remove stubborn impurities, oil, and blackheads to a certain extent. After using a blackhead pore suction, you will notice more radiance on your skin. This is because it removes the dull and dead skin cells that make your pores look enlarged. You will also notice fewer blackheads. In short, pore vacuum cleansers are temporary solutions for removing blackheads. You should use them only occasionally in conjunction with a proper cleansing routine.
Also Read: Top 10 DHT Blocker Shampoos to Stop Hair Loss Immediately
---
---
---
---
---
---
Are There Any Side-Effects of the Best Pore Vacuum Cleansers?
Everything comes with some cons, so do even the best pore vacuum cleaners. They deploy a vacuum to exert pressure on your skin. And too much pressure for too long can cause bruises, redness, tenderness, swelling, and even hemorrhaging. They have different speed settings for you to find the best adjustment based on your skin type, texture, and condition. But if you have some skin issues, we recommend you not to use pore suckers. Using them in such cases may harm your skin with bruises and broken capillaries.
Before using any pore cleaner tool, you must read the manuals available in the packs to prevent the wrong usage. Not following the guidelines of usage and pressure settings for specific skin types can lead to a skin crisis. You wouldn't want damaged facial skin, would you?
And don't forget to check whether it supports daily usage. Also, look for brands that offer daily usage if you are planning to do so.