7 Best Herbs for your glowing skin to prevent from Anti Ageing
Ageing, physically, mentally and psychologically, exists by nature and is totally out of our hand. With time passing by, your skin starts to age too. Sagginess, wrinkles and fine lines are the clearly seen factors when talking about skin ageing. To reverse this phenomenon of ageing, several cosmetic products are available in the market but are they worth trying?  These chemically infused cosmetic products come with some serious side effects. 
If you are someone who is trying to slow down the effects of skin ageing, but afraid to try your hands on chemical cosmetic products, you are at the right place. With barely any side effects, natural skincare regimen can be a game changer here. Ayurveda vastly discusses the herbs for anti-ageing. 
Also Read: 7 Mudras removing the dark circles and their benefits
Presenting the 7 Best Herbs for your glowing skin to prevent from Anti Ageing.
Ashwagandha
Ashwagandha is known for its antibacterial and cognitive properties. Tightly packed with alkaloids, ashwagandha is beneficial for protecting skin cells from damage and stress, making skin more plump and tight. Powder of ashwagandha mixed with honey works wonders. Ashwagandha can also be consumed with water or milk for production of collagen (the skin strengthening compound).

Turmeric/Haldi
Extremely popular in India, haldi or turmeric is considered one of the best herbs for skin care. It's antiinflammatory, antibacterial, antioxidant and what not. Being a great natural exfoliator, haldi provides youthful glow to skin. Miraculous, isn't it?
For a haldi face mask, mix haldi powder with honey and milk, apply for 15-20 mins and gently rinse off with cold water. Regular use is advised for better and fast results.
Giloy or Gudduchi
If fine lines and wrinkles on your face are making you feel unconfident, Giloy is the quick fix. Attributed with anti-aging properties, Giloy revives our skin tissues and detoxifies the immune system. Wow! Wellness from inside and outside both. Giloy paste can be applied on the face for glowing skin as well as can be consumed in many forms.
Brahmi/Bacopa
This is a very tiny herb beneficial for regeneration and renewal of skin cells. Brahmi can fix your sleep cycle, giving you beauty sleep.Apart from this, it removes skin toxins, unclog pores and enhances blood circulation leaving your skin more plump and young.
Ginger
You can enjoy the anti-aging properties of Ginger with very simple tips.  Add pea sized ginger to each meal and make it a routine. Results will be shocking as Ginger preserves skin collagen and makes the skin look much younger. For better and faster results, rub a slice of ginger on your face at least twice a day. 
Amla
Amla can become a permanent herb in your natural skincare regimen with its shocking anti ageing properties. Consumption of Amla in various forms is super beneficial for ageing skin.
Ginseng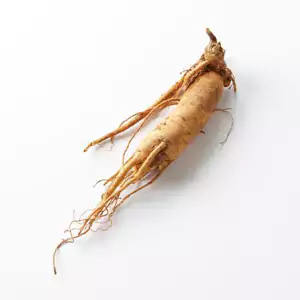 Ginseng is a beneficial root herb for skin problems. Beauty experts have claimed it to reduce wrinkles, promote elasticity, brighten skin and produce collagen, one handedly solving half of the skin ageing problems by itself. Ginseng powder can be mixed with milk,  can be applied regularly.