First Black, Indian American Vice President – Know who's Up for the Run
Kamala Harris Made History in Democratic National Convention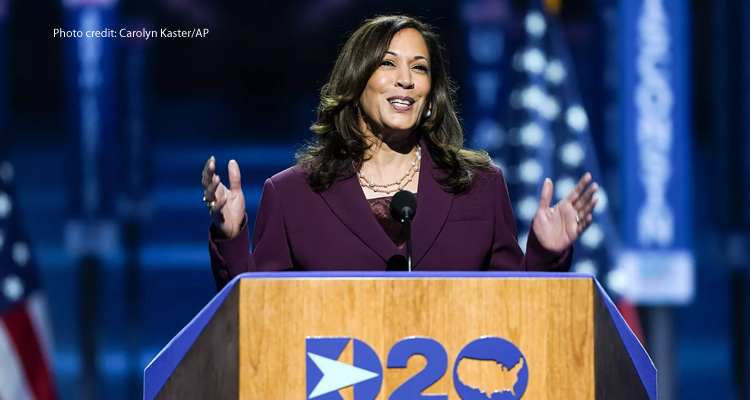 Then, it was Barack Obama. Now it's Kamala Harris who became the first black, Asian American vice-president candidate. Marking an instance of history in the US, she highlighted the 19th Amendment's significance that allows women with the right to vote, on its 100th anniversary. Harris said, it's the women who struggled for their rights have inspired us to follow the path and fight for ourselves.
Speech by Kamala Harris
On receiving the nomination, Harris mentioned it as a tribute to her mother named Shyamala Gopalan Harris. She said her mother as one of the motivating women in her life and stated the compassion values she had instilled in her. She also spoke about the values that her mother taught her. It was about leading the growth with faith and not sight, following the vision Americans are passing on through generations. She also shed some light on the vision. 'Our nation's vision is a beloved community wherein all are equally welcomed, irrespective of their location, color, appearance, or any other fact.'
Though most of the speech's part, given by Harris, was positive, she also challenged Trump within. She mentioned about racism and conspiracy theories existing in the US and linked to his presidency.
How Harris Entered Political Space?
Harris' younger sister named Maya Harris introduced her to the domain. Maya is a political operative and lawyer. For presenting her acceptance, Harris was assigned a schedule to deliver a speech before Barack Obama, former President. He was there to headline Democratic Convention's Night three. But former President Obama re-scheduled her to the prime slot to declare her as the evening's star. He did this on purpose that was to symbolize the passing of the torch to the democratic leaders' upcoming generation.
Support from Barack Obama and Hillary Clinton
During his new schedule, Obama attacked his successor through a non-typical approach. According to him, he spent time with people who are now running for the presidential election. And Obama never expected an acceptance for his policies and vision from his successor. However, he still had a hope that President Trump will be serious about his job. However, he was disappointed that Donald never discovered any reverence towards democracy.
Hillary Clinton, the former presidential candidate, also asked democrats to move out for casting their votes. She mentioned her failure and cited people not knowing the dangers of Trump's presidency or not voting as reasons.
Though Trump also responded to the allegations using angry tweets, only time will tell if Harris manages to create history by getting elected.