10 Plaid Skirt Outfits to Try In 2021
Today we are going to draw your attention to the most versatile kind of skirt i.e., Plaid Skirt. It's incredibly versatile depending upon the style, like wearing it with boots, flats, or even heels for a night out. Possibilities of plaid skirt outfits are endless. You can wear this skirt with a matching plaid blazer or pair it with a shirt, a basic graphic tee, or a cozy oversized sweater. Yes, we know plaid skirts have a preppy, school-uniform vibe that can't be denied, but they're also more versatile than you might think.
Here's some pleated skirt outfit inspiration for you all. We rounded up our 10 favorite ways to style a plaid skirt, from an office-appropriate style to a must-have night-out combination..
Also Read: Top 10 Tips to Buy Winter Clothes for Women 2021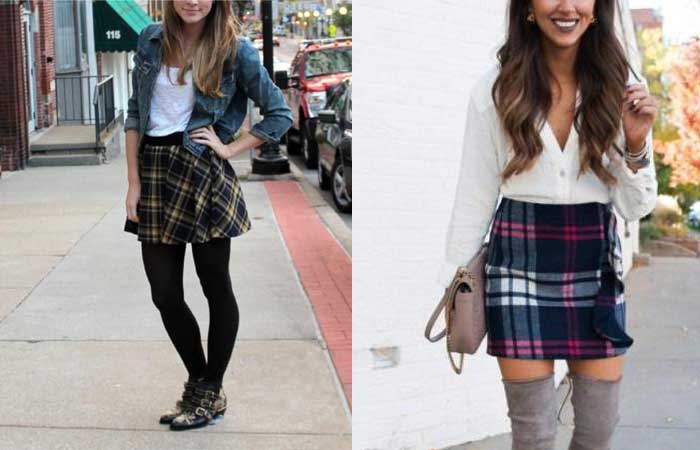 ---
Pair a Plaid Skirt with Blazer
A plain blazer always has this way of dressing up a look. It instantly elevates a formal or casual outfit and luckily, they are meant for all women regardless of shape. A blazer with a skirt outfit is particularly great because it gives a sense of balance to your look. For an added dose of prep, add a classic grey top to your plaid skirt. You'll achieve an instantly pulled-together look that's appropriate for your workday and after-dinner drinks with just a few pieces.
Create Similar Look with these:
---
Pair a Plaid Skirt with Shirt
Pencil skirts can without a doubt be part of your everyday outfit, not just for the office. Turn it into an off-duty favorite with this black and white skirt outfit. Revamp classic skirt with a white shirt blouse to get a crisp look. Pair it with high heels to accentuate the overall look.
Create Similar Look with these:
---
Try A Pleated Skirt Suit
A chic plaid skirt pairs well with a coordinating plaid blazer. Look for skirt and blazer sets, like the above image. To ensure that your combination perfectly matches, just add a white t-shirt or shirt and you're all set.
Create Similar Look with these:
---
Try Plaids With Oversized Pullover
This outfit is such a youthful and cute one. You can achieve this look by wearing a chunky oversized white or beige pullover. Pair it with a brown plaid mini skirt. Wear a pair of black ankle boots and a black handbag to add a magical touch to this outfit.
Create Similar Look with these:
---
Flaired Plaid Skirt Outfit With a Basic Top
Basics can never go wrong. This is such a nice and easy pairing. You can keep this look as simple as it is in the image with a pleated navy blue skirt. Alternatively, you can create a party look with some chunky accessories or go minimal with a simple pendant to keep the vibe up.
Create Similar Look with these:
---
Pair it With A Graphic Tees
As we mentioned earlier, basics can never go wrong and with them, you will never feel outdated. And when it comes to our favorite graphic tees and plaid skirt, how we can stay back. Wear your favorite graphic tee or just any basic top/blouse with a short or long red pleated skirt. And add boots to be ready to rock.
Create Similar Look with these:
---
Try Pleated Skirt With Classic Trench Coat
A classic trench coat is a proof addition to your plaid skirt. The combination makes for a wear-everywhere ensemble that can solve all of your fall and winter fashion dilemmas.
Create Similar Look with these:
---
Plaid Skirt Outfits with Jackets Always Work
Here is a stylish outfit that consists of a black leather jacket, a white t-shirt, and a brown plaid mini-A-line skirt. The black sandals and black bag are there to complete the feminine touch. You can also go for a black pleated skirt outfit for that black-and-white appearance.
Create Similar Look with these:
---
Try Plaid Skirt Outfits With Cardigans
Show off your chic style skirt that embraces your overall look. Pair it with a long loose cardigan over a white crop top. Top it off with clean, simple, minimal shoes like flats, low block heels, or long boots.
Create Similar Look with these:
---
Plaid With Off Shoulder Top
Pair a plaid skirt with a white off-the-shoulder top to get a sexy look. To form a stylish and low-key sexy skirt outfit, pair it with black high heels and leather ankle boots.
Create Similar Look with these:
Those plaid skirt outfits are very easy to pull off and very beautiful at the same time. Try them on and see how they fit your character and body type and send us your pictures. We would love to see you in the plaids.
Top Viewed Articles