Top 5 US Fashion Bloggers, You Should Follow in 2020
Seasons change, fashion trends change, but is your struggle to find online style inspiration getting any easier? The web world's a black hole that makes you spend days scrolling through fashion social media feeds and searches. However, you might still be wondering what to wear to appear stylish and stay ahead in the fashion game. By the way, are you following any of the top US fashion bloggers?
Well, not to worry, even if you aren't. We're here with a handpicked selection of some of the best names you shouldn't miss this year. Go through the list of top US fashion influencers below and add them to your checklist.
The teenager who started with #OOTD shots at 16 is now cavorting around celebrities as a Coachella VIP. The fashionable Sheffield girl, Kavita Donkersley has been fashion blogging for around a decade now. And, with over 56k Instagram followers, she has grown into one of the popular fashion & travel bloggers.
Her website 'She Wears Fashion' has earned coverage from press channels including MTV, Cosmopolitan UK, Topshop, and London Fashion Week Official among others. Known to have one of the best wardrobes ever, Kavita often carries a blend of luxury and high-street fashion and shares amazing styling tricks through her blog. And, following her might get you exciting news and products from your favorite labels due to her alliance with big brands.
Follow She Wears Fashion on Instagram: https://www.instagram.com/shewearsfashion/
Accidental Icon by Lyn Slater – Age Doesn't Influence Your Love For Fashion
Would you believe if someone says that there's a 60-year-old style icon who is inspiring many young fashionistas? With her styled snow-white hair at this age, she not only carries style but also guides others in staying fashion-forward. Unlike other people of her age, she looks quite stylish and her blog 'Accidental Icon' is a fashion guide wherein age is no bar.
A professor by profession, Lyn Slater, moved to fashion blogging to make her life a bit spicy and interesting. And, due to herself being an elder, she started targeting women aged 50 and above who are willing to live an interesting-ordinary life.
Follow Accidental Icon on Instagram: https://www.instagram.com/iconaccidental/
GabiFresh by Gabi Gregg – Plus-size Doesn't Mean You Can't be Fashionable
More popularly known as GabiFresh, Gabi Gregg is one of the famous designers, bloggers, and style influencers. Gregg claims that crop tops, miniskirts, and bikinis are not only for the skinny and women of all sizes can wear as well as flaunt them. And, that's why she brings her fashion guides and latest attire for the plus size women.
In addition to her blogs and guides, she is also known for designing sell-out collections for her Instagram fans, including edgy swimwear for swimsuits4all and lingerie line for playful promises.
Her wonderful sense of blogging and designing has made her famous all over social media as one of the US famous fashion bloggers.
Follow Gabi Fresh on Insta: https://www.instagram.com/gabifresh/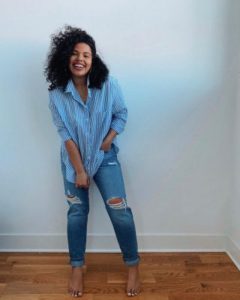 The girl with the curly hair who uses Vaseline for eyebrows, elbows, and lips as well as for removing makeup. Tyla-Lauren Gilmore has been trying to keep her hair straight for almost a decade. In 2015, she decided to return to the naturals and, reclaiming her roots, she started documenting her switch to a fashion niche of herself. Her journey of personal transformation came in as an encouragement for women that made her turn towards fashion blogging as a full-time job.
So, if you are looking for an inspiration that encourages you to be the best version of your natural self, Tyla is your go-to fashion blogger.
Follow Tyla Lauren on Insta: https://www.instagram.com/tylauren/
The Fashion Advocate by Claire Goldsworthy – Advocating Ethical Fashion
Amidst fast fashion, Claire feels that quickly changing trends are diminishing the true feeling and value of fashion. That's why she started blogging to share her styling guides and encourage brands that share a moral and worthy binding. Despite her dislikes for the fashion that outdates rapidly, she is counted among the top US fashion influencers for sharing the latest and the best trends. Following her easy tips can help you change the entire dressing attire.
Follow Claire Goldsworthy on Insta: https://www.instagram.com/thefashionadvocate/
Do bookmark these fashion blogs and bloggers and don't forget to wear them whenever you are looking for the best of style. Do let us know who your favorite is and if you consider another blog/blogger as a contender for the list.