Some Interesting Facts You Probably Didn't Know About Jimmy Fallon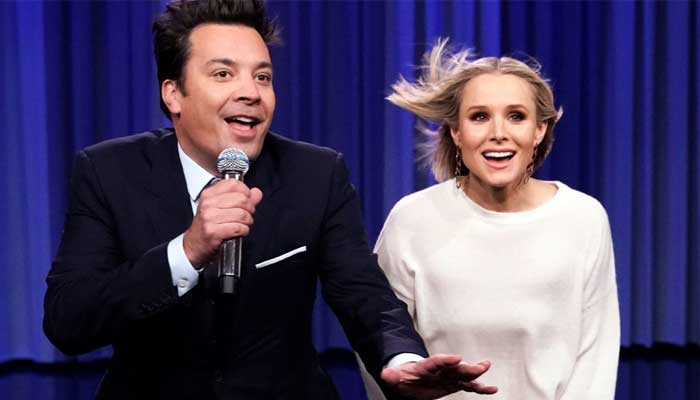 Who doesn't know him? He has earned a huge name. And every celebrity wants to be on the show. With huge ratings and fan following, Jimmy Fallon is the extremely talented host of "The Tonight Show Starring Jimmy Fallon".
We all have seen him interviewing a lot of celebrities on the show, but there are still many interesting facts that we might not know about Jimmy Fallon.
Jimmy Fallon is a well-known comedian, born on 19 September 1974, in Brooklyn, New York, rose to fame from the roles he played on the popular comedy show, Saturday Night Live. Comedy sketches, impersonations, playing guitar, or singing- you name it and the talented talk show host has probably done it at some point in time.
You can buy Celebrity T-Shirts and Shirts Click Here
Also Read: Top 5 Nicest Celebrities
There are still a couple of things out there about the comedian and entertainer that you might not know about. 
A Calvin Klein Model
Jimmy Fallon managed to bag a chance to be a Calvin Klein model in 2001 after he was spotted by the brand while performing on a popular comedy show, Saturday Night Live. Fallon was featured in a print ad and also appeared on a series of free postcards.
Creator of Lip Sync Battle
Lip Sync Battle is a popular show on the Spike TV network. But did you know that the first-ever incarnation of Lip Sync Battle was on Fallon's late-night show? He is the man behind the Lip Sync Battle and started it on his Show. Some of the most memorable and amazing lip sync battles of all time on Jimmy Fallon's show included the talented Paul Rudd, John Krasinski, Joseph Gordon-Levitt, Emma Stone, and Melissa McCarthy
Auditioned Twice for Saturday Night Live
It was Jimmy's childhood dream to be a part of Saturday Night Live. He received everybody's attention with his hilarious performances on the show. But did you know that he faced rejection by SNL when he appeared for his first audition? Later, he became a part of this iconic show after clearing his second audition in 1998 at the age of 23.
Member of Groundlings
Fallon was determined to make it big in the world of entertainment, and literally, nothing would stop him from achieving his dream. So, before making it big he decides to perfect his craft. And became a member of the legendary Groundlings troupe before joining SNL and stayed with comedy improve society for two years.
A Grammy winner
Jimmy Fallon is a supremely talented musician. Fallon was awarded a 2012 Grammy for Best Comedy Album with the release of Blow Your Pants Off. He can do amazing impressions of some of the greatest musical acts out there, including Bob Dylan and Neil Young, and he plays the guitar himself really well!
Budding author
Fallon is also a budding author and has written several books to date. His first book I Hate This Place: The Pessimist's Guide to Life came in 1999, which he co-wrote with his sister Gloria. His most recent publication is '5 More Sleeps 'til Christmas'.
Inspired Ben & Berry Name to Create Ice-Cream
Upon the completion of his first season of the Tonight Show, Ben & Jerry revealed The Tonight Dough as an act of celebration. Jimmy Fallon's face is featured on the ice cream carton and all proceeds from this special ice cream flavor go to charity. The ice cream consists of caramel and chocolate ice cream, swirls of chocolate cookie, peanut butter cookie dough, and chocolate chip cookie dough 
Voted one of the 50 Most Beautiful People in the World
Fallon was (and still is!) one good-looking guy back in the day, and this didn't escape the attention of the US media. Jimmy Fallon was featured in the list of 50 Most Beautiful People in the World by the People Magazine in 2002.